3D Hologram LED Fan Display Screen
£879.00
Description
Looking for an innovative new way to attract and engage your audience? Look no further than the Hologram LED Fan. The Hologram LED Fan is a radical new holographic device that's capable of displaying images that are larger than life and lifelike videos in stunning 3D. You can use it to liven up your advertising space with futuristic 3D video or imagery.
Next-Generation Technology
The next-generation technology used in the Hologram LED Fan provides a unique way to display 3D imagery at your business or venue. The rows of LED lights work algorithmically on a spinning fan to produce life-like 3D images or videos that can engage and entrance your visitors and customers in a way that a regular display simply cannot. Turn on your Hologram LED Fan, watch the fan blades disappear, and your 3D images come to life.
Crisp, Vivid 3D
Viewers can look on in awe as they see images and videos in beautiful and colorful 3D. No backgrounds and no borders create a stunning, life-like effect that looks like it came right out of a science fiction movie. And the high-quality LED display fan works at maximum brightness, so you can rest assured your images will look vivid and detailed, even in brightly-lit environments.
Simple and Easy to Set Up
Setting up your Hologram LED Fan is quick and easy. Simply attach the fan to a wall or floor mount. Once mounted, add content via SD card and within minutes, the display fan is spinning and you're watching your 3D images move across your space.
The Hologram LED Fan is also lightweight and easy to transport, so it's perfect for mobile shops that need an eye-catching display to differentiate from the competition. The small and light profile ensures you're able to find the perfect spot—or spots—for your cinematic holograms.
Display Engaging Custom Content
The Hologram LED Fan's next-generation technology allows you to display images and videos that seem to jump right out of a movie and into real life. Without any borders or backgrounds, your holograms will appear vivid and lifelike as though they were floating in mid-air, giving you a presentation that's engaging and futuristic.
With a Hologram LED Fan, the sky is the limit for the content you can play on it. Since it works like a typical display, you can create and edit your own video and images to be displayed on the device. Create your own advertisements, or use them to display high-quality imagery of your products. The Hologram LED Fan is a content creator's dream come true.
Outshine Your Competitors
With Hologram LED Fan, you'll stand out from your competition. Far more impactful than a simple gimmick, a 3D hologram fan is a complete advertising solution that you can integrate into your marketing to give you a stunning media presentation that will make your competition pale in comparison.
Let's face it: Most businesses rely on the same old tired signs to get people to sit up and take notice. And if your competition is stiff, you need something that sets you apart. A Hologram LED Fan will do just that, giving you head-turning, eye-catching, three-dimensional imagery that will make your new customers completely forget about your rival's boring old signs.
Place in a Variety of Spaces
Get creative with how you display your 3D images and video. Place fans on a stand, a counter, or fixed to the wall to display vivid 3D in every way you can imagine. Create an enticing way to beckon customers into your establishment by placing a fan in your business's doorway. Or link multiple fans together to create a massive 3D presentation that catches everyone's attention.
Attract and Entertain Your Audiences with Amazing 3D Imagery
The amazing Hologram LED Fan opens up a brand-new dimension in advertising technology. It gives you access to amazing, 3D holograms that bring images and video to life in ways that a typical display just can't do. And the openness of the product ensures you can push your own creativity to its limits by giving you a way to create massive, engaging holograms that is sure to turn heads from all around. To bring your advertising and marketing efforts well into the future, enlist a Hologram LED Fan and start turning heads.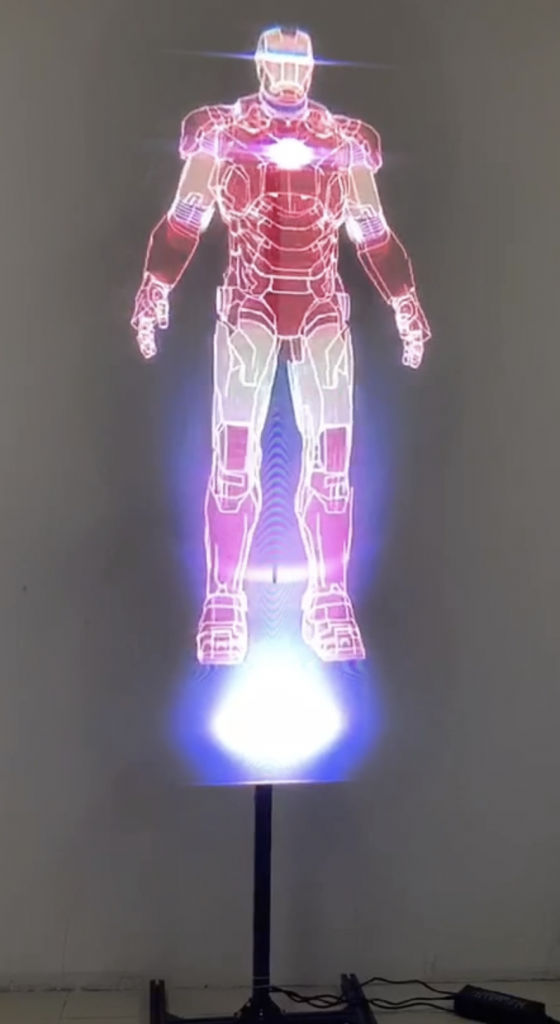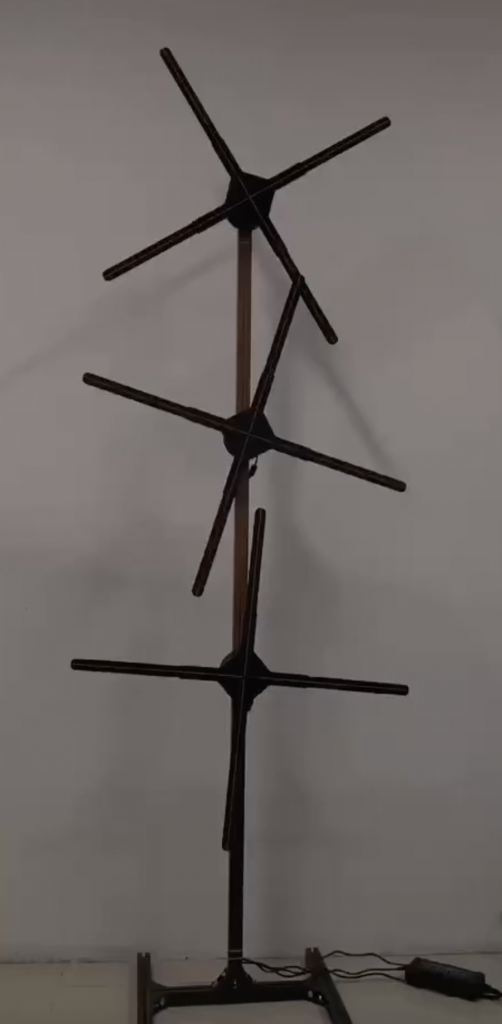 ---
The effect is created by one or several bars with high tech led lights that spin at high speed.
Colourful and vivid images or video are produced.
Fans are fixed to the wall or on a stand.
It is easy to change content you want to play: edit content by computer and plug SD card in fan to play.
3D holographic fan display can be easily fixed on a variety of building or structures.
Simple and easy operation.
Clear images can be seen from a long distance.