She has silver short hair, a cute round face, and a silver armour.
When she spoke the words, sometimes her eyes twitched playfully, and the cuteness made the audience and guests excited… but the mechanical bones of the lower body exposed her true identity.
She is a humanoid bionic intelligent robot made by EX Robot. After years of research and development, this robot has successfully entered the recording studio at Zhejiang TV Station "Intelligent Future" and entered the public eye. She has become the assistant of the famous program host Jiang Changjian. EX Robot have given her the name Jiang Lailai.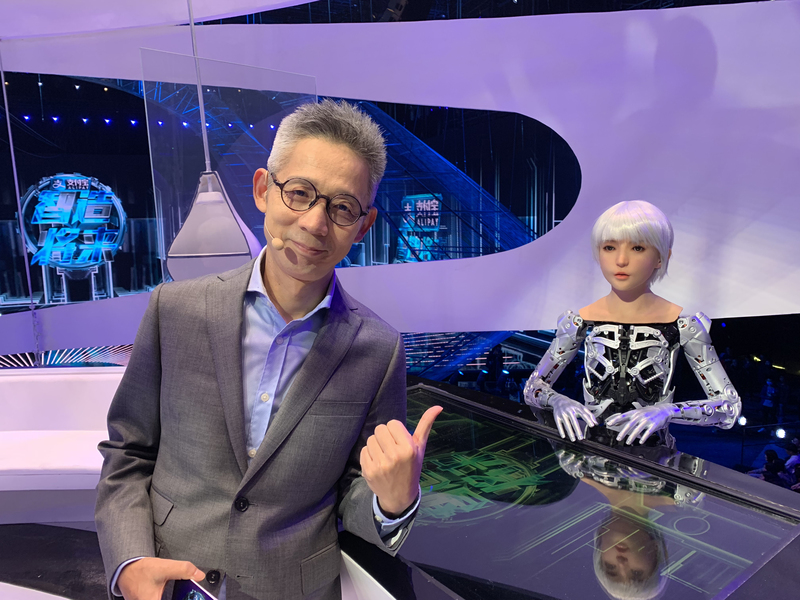 A short video of her has gone viral with over a billion views.
"We can cover Jiang Lai Lai's body with skin," Zhang Yu, director of research and development said. "In order to reflect the technological sense of the program, we deliberately revealed her skeleton."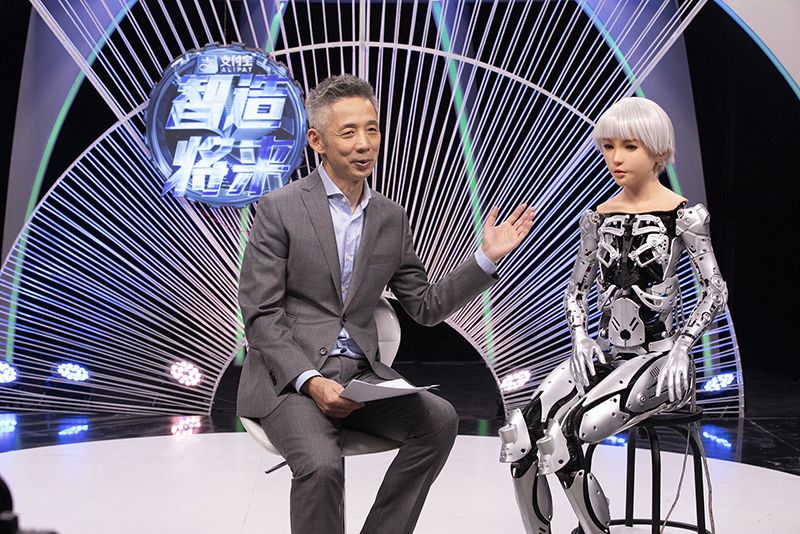 Entering EX Robots new Factory and R&D Centre is like walking into a Hollywood sci-fi blockbuster filming scene. The R&D staff was holding a robotic head to discuss the installation procedure. The front is a beautiful face, but the back of the head has an opened shell, revealing dense wires and components. Dozens of micro-motors installed inside allow the robot to make complex expressions, showing emotions and speech movement.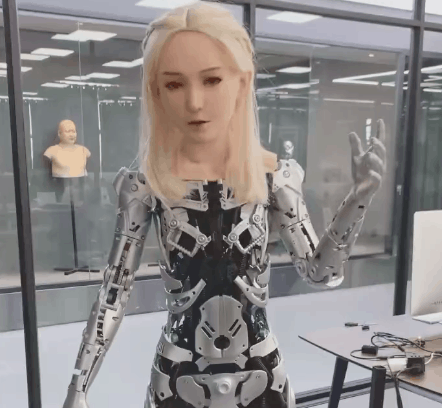 In the company corridors, various robot images and models are displayed. Thanks to 3D scanning,
 digital modelling and 3D printing, these robots have exactly the same face as a real person. Their faces have delicate skin, good elasticity and true touch. They are a masterpiece of silicone art; a combination of aesthetics and technology.
These robots are similar in height to real people. They also have movable joints and bones. Currently, they are only used as exhibits. Some parts do not have silicone skin attached.
The robotic assembly workshop has a large ring, which can fix the robots limbs on it. By being able to view all-round 360 degrees, it allows for a high-precision installation under the simulated weightless state.
the influence of the traditional installation process on the non-standard structure of the robotic person is avoided. "There are many kinds of robots. The intelligent bionic humanoid robot consists of externally simulated silicone skin, internal mechanical bones, and a drive and control operating system." The engineer said that it is an intricate process.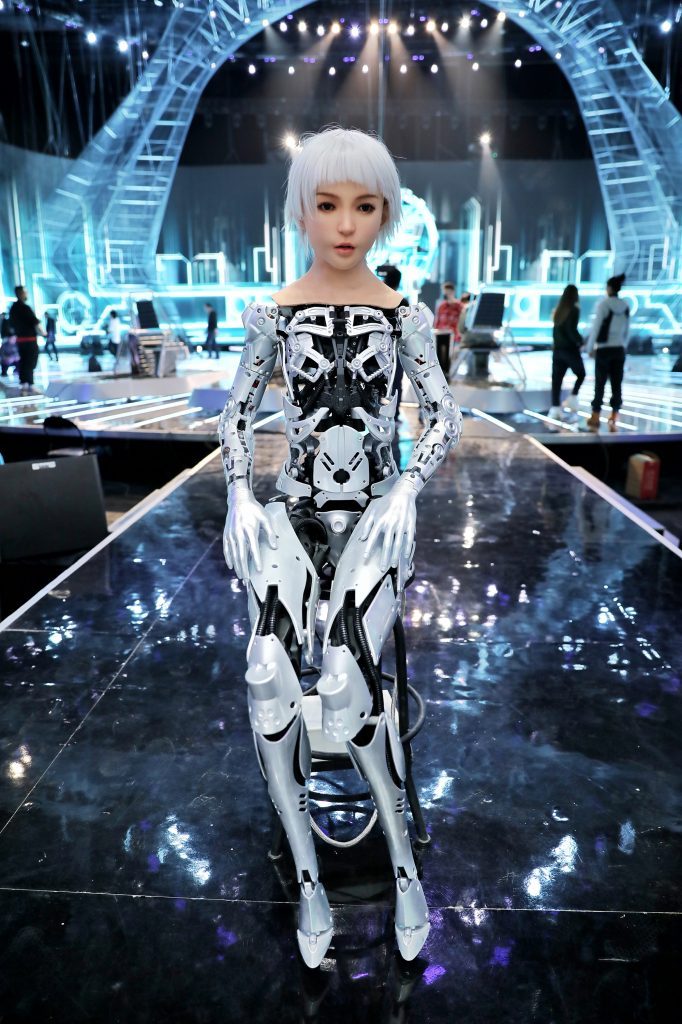 The company's own patented mechanical bones reduce the weight of the product, making her the "lightest person" of its kind in the world.
The original silicone simulation skin technology can ensure better comprehensive performance of the simulated skin. From raw materials, production technology, simulated skin design, to the perfect combination of skin and mechanical structure, EX Robot is the first company to achieve this in China, and its product performance has reached an internationally leading level.
EX Robot is a high-tech company from Dalian in the Panjin High-tech Zone. It is the first intelligent bionic humanoid robot manufacturer in China.
Different from the traditional machine appearance robot, EX has created the core product; intelligent humanoid service robot, which is divided into intelligent voice dialogue robot, intelligent public service robot, intelligent medical guidance robot, smart home control robot, customised Ultra-realistic interactive robots and other series of these robots will be widely used in enterprises, medical care, education, and in everyday life.
"Robot Jiang Lai Lai is in a leading position in the world in terms of technology and commercialisation capabilities." Yang Dongyue, the chairman of the company, said. The reason why he chose to build a factory in Panjin is to take advantage of Panjin's superior geographical position and excellent business environment. The company's total investment is 50 million yuan, and the annual production of robots can reach 2,000 units.
Next year, it is forecast that Jiang Lailai will have more brothers and sisters.
In the sculpture workshop, two designers are working on sculpture heads of the Chinese comedy masters Ma Sanli and Ma Ji. It is said that after the sculpture is made, after 3D printing, the two performers can be copied. When Ma Sanli and Ma Ji are manufactured and are live and performing in front of an audience, with their classic comic dialogue, with the true to life expressions and movement, do you have the feeling that EX Robot are teasing of their true robotic capabilities?
Jiang Lai Lai is changing the future and EX Robot are producing prototype robots, getting ready for mass production and showing their manufacturing capabilities.
Watch this Space!