This is the most highly anticipated product to ever be released by DS Dolls. The sex robot phenomenon is coming and we are delighted to be an integral part of that process.
What you can see in this video is that the skeleton has been developed with 3d printed parts, the head is now silicone covered up to the shoulders with a wonderfully expressive face. The programming is developing all the time in order to give the fluidness of movement and expressions that you can see in the video.
This video was taken at a VR Expo in NanChang City, China where the robotics are being demonstrated, particularly the arm movement that is being developed currently as a part of the Welcome Robot and Service Robot development.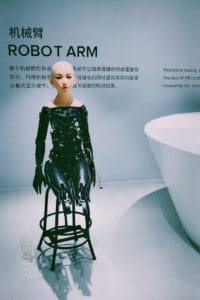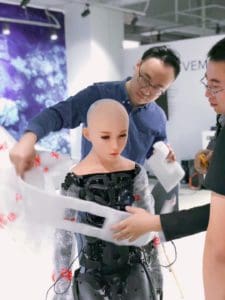 The doll components are sensitive and need to be packaged in order to protect them from being damaged in transit to the exhibition. Here you can see the Robotic Doll being unpackaged from her protection.
The robots proved to be undeniably popular in the exhibition and demonstrations and exhibits were very well received.
The Sex Robots really are coming and they are coming very soon from DS Doll Robotics. We are making new technologies, parts and capabilities all the time, the development is ongoing and we will be able to release our first products into the market very soon.
We will have facilities available for repairs and maintenance both in Asia and in the UK. We are ensuring that parts that are sensitive can easily be replaced and that maintenance can be achieved by the doll owner wherever possible.
The UK & Europe service centre will be offering a full service and maintenance package that can be purchased with your product.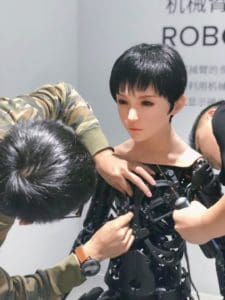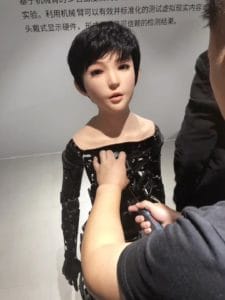 Certain robot body components have been 3D printed to keep the costs of production low and to ensure that each part is identical and precise for each model that is produced. We have found that this is a highly efficient way of producing components. The skeleton is modelled upon a real body and how the human body works. This is so as we can replicate precise and realistic human movements in our programming. If the skeleton is made to move like the human body does when we program the doll we will be successful in making her movements realistic.
The head can now move and turn.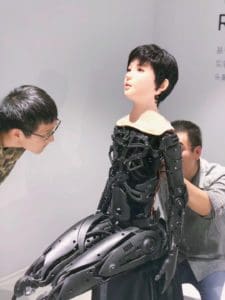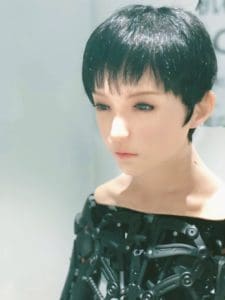 We were so pleased to be able to display the robotic doll developments in this way and we will continue to update about our robot products.